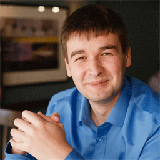 Dmitri Pavlov
Co-Founder and CEO
WHAT WE DO:
First of all, on behalf of my team, I would like to thank you for visiting our website and hope it may be useful to you.
Every one of us has been through that tedious job searching process some point in our lives. The complexity and time it takes to obtain a job could take months and possibly interfere with your everyday lives.
To make your life easier, we have created Jobficient to help you minimize time required to search for a job while maximizing your chances to finding the job you deserve.
After some time spent in development, we have created an extensive database of recruitment agencies and want to invite you to connect to them. You are now able to reach out to many recruiters which are related to your fields of interest all at once.
Our customers come to us for many reasons, and most importantly choose our service because we both have a shared goal "Match You with Your Ideal Job".
WHO WE ARE:
Jobficient Inc. is a privately owned job search company in its infancy stage. Our main goal for the near future is to achieve excellence in our customers' unique needs.
We truly value the relationship with our customers. Therefore we take into serious consideration the ethical standards to build client confidence in our company. We believe that it can be accomplished by abiding to our values:
Honesty


Confidential personal information will not be shared with unrelated parties and will be available to you immediately upon request.

Commitment


Delivering 24/7 dedicated customer service.

Validity


Providing our customers with the best available rates and the best available recruitment agencies.

Professionalism


Treating all customers without prejudice regardless of their ethnicity, education level or background.

Transparency


Providing recruitment agencies upon request access to the records of our database related to their company, and with the ability to make required changes.

Flexibility


Frequently updating our website and other social media pages to provide our customers with the best available information.